Information
abime.net is copyright 2001-2017 by Astruc Pierre, also known as RCK.
Readers may not modify, publish, transmit or in any way exploit any of the contents of this site, in whole or in part, without the express prior permission of the copyright holder. Direct comments to the appropriate person. All rights reserved.
EvenMore


EvenMore
: Freeware Textviewer for OS3, OS4 and MorphOS
Here are its main features:
- Plugin system for viewing many different file types, such as AmigaGuide,
HTML, WordWorth, MSWord, RTF, directories, etc.
- Supports ANSI escape code sequences for text formatting, including full
colour text for certain file types.
- Extended set of ANSI escape code sequences for additional font styles.
- True colour text rendering on systems with graphics cards.
- Links are clickable in HTML, AmigaGuide, directories and other file types
- Drag and drop files on the window to open them.
- ARexx port for remote control.
- Search function.
- Configurable menus for frequently used documents.
- Clipboard support.
- Locale support.
- Unlimited bookmarking system
EvenMore v091 OS3:
Download
EvenMore v091 OS4:
Download
EvenMore v091 MOS:
Download
3 comments
Captain Crunch Appeal
Hi, it came to my attention that a well known friend and legend Cap'n Crunch is suffering from a very nasty spinal fusion operation, leaving him with more then a year of recovery. During this time, he's highly dependent on other people to assist him in daily living tasks.
Although his recovery is improving, he can no longer depend on doing contracting work, giving lectures and talks, traveling, or endorsing security and privacy products. His ability to sit at a computer or laptop is limited by the pain he gets from sitting up for long times. Plus being under a nasty concoction of narco drugs the Big Pharma is cramming down his mouth, leaving him in a constant daze with much less mental capacity then normal.
John really wants to end his fund raising campaign on a positive note, so he can get back and finish telling his story in a new book he is writing.
Details here:
http://beyondthelittlebluebox.com
Copies of his book, and other "goodies" can ONLY be obtained through his up and coming KickStarter campaign.
First, lets help him complete his healing fund donation campaign, by going here to make a donation, however small or large.
His book has already been submitted to the publisher, and is in editing phase at the moment. John needs as much time as possible to complete these editings.
Donate here:
https://gofundme.com/crunch-medical-fund
I would just like to add that John T Draper recently had another feather in his cap, with the US Senate approving the Signal messaging system for secure communications. John has been talking about using Signal for secure comms for years now, and it is evidence that he really is an asset to everybody.
http://www.iclarified.com/60538/sign...for-senate-use
3 comments
South West Amiga Group Meeting No.4 - Sat 10th June '17
About
The South West Amiga Group (SWAG) originally formed in December 1997. They met once a month in Bristol to discuss their favourite computer. The group continued in various forms until 2005 when the group disbanded.
In 2016, riding the wave of renewed interest in the platform, the group has been resurrected, a new venue found and new events planned. Our first meeting was held in May last year, with a follow-up meeting held in September and another in January 2017. Following the success of the first three sessions, our next meeting is now planned.
SWAG embrace both classic and next generation machines, including all Amiga OS variants, MorphOS and AROS. This includes physical, emulated and FPGA based platforms. All are welcome – but remember … Only Amiga Makes it Possible
Meeting Details
We've arranged to hold our fourth SWAG meeting in the recently opened Swindon Makerspace -
http://www.swindon-makerspace.org/
- a fully refurbished building perfect for those wishing to tinker with new and old Amiga hardware and software.
The date of the fourth SWAG meeting is Saturday 10th June.
Although the meeting is due to begin at 12 noon, the pre-meet brunch has proved so popular at the first two meetings that it's now part of the day itself.
11:00am - 12 noon - Brunch at the greasy spoon next door to the venue
12noon - 5:00pm - SWAG meeting at the Makerspace.
Following the success of the extended meeting session for meeting number three, the 5:00pm finish time remains.
Cost - The costs of room hire for the first three meetings were paid for by a number of organisers. Obviously, this can't continue indefinitely, so for this meeting onwards the costs are £4 for adults. Under 18s are free. All room hire costs go back into the running and improvement of the venue.
The Swindon Makerspace can be found at Unit 34, BSS House, Cheyney Manor, Swindon
There is free parking on site, while the venue offers free Wifi plus tea and coffee making facilities.
Meeting Content - Amiga X5000 Demo
One of our members has been lucky enough to add a brand spanking new Amiga X5000 to his collection, and will be bringing it along to the meeting. If you wanted to see the fastest Amiga ever built now's your chance!
Meeting Content - 5-Player Dynablaster Bomberman
With Dynablaster proving so popular at the last three meets we'll be wheeling it out again for more multiplayer bombing action.
Meeting Content - Link up Action
A number of Amiga titles gave you the option of hooking up multiple Amigas together. Try your hand at Vs Stunt Car Racer, Lotus and more!
For Further Information
If you'd like more information then please visit the official SWAG web site at
http://www.southwestamiga.org.uk
You can also find us on:
Facebook -
https://www.facebook.com/groups/southwestamiga
Twitter -
https://twitter.com/southwestamiga
And Finally
If you are planning on coming, please drop us an email to let us know. We need to get a rough idea of how many people to expect Also, if you're planning on bringing any hardware (computers, screens etc.) then please detail that in your email.
SWAG can be contacted at:
swag@southwestamiga.org.uk
GL Galore 1.1 released
Airsoft Softwair is proud to present
GL Galore 1.1, the ultimate OpenGL® scripting solution for Hollywood!
This is a major update which introduces Unicode support (requires at least Hollywood 7), support for the Raspberry Pi (needs at least a Raspberry Pi 2), and support for 64-bit architectures on Windows, Linux, and Mac OS. On top of that, GL Galore 1.1 also introduces a modern joystick API which allows you to query joysticks with more than two buttons and axes. Finally, GL Galore also contains direct online help now for people using the Hollywood 7 IDE on Windows.
GL Galore is a plugin for Hollywood that allows you to access the OpenGL 1.1 command set directly from Hollywood. This makes it possible to write scripts that utilize the host system's 3D hardware to
create high-performance, butter-smooth 2D and 3D animation
that is computed completely in hardware by the GPU of your graphics board. This leads to a
huge performance boost
over the classic Hollywood graphics API which is mostly implemented in software for maximum portability and compatibility. Especially systems with slower CPUs will benefit greatly from
hardware-accelerated drawing offered by OpenGL
.
OpenGL is a portable software interface to graphics hardware
. It is available for almost every platform in a variety of flavours. On AmigaOS and compatibles, OpenGL is available as MiniGL on AmigaOS 4, TinyGL on MorphOS, StormMesa on AmigaOS 3, and Mesa 3D on AROS. Windows, Mac OS X, and Linux systems are usually shipped with an OpenGL driver already installed.
GL Galore offers wrapper functions for most commands of the OpenGL 1.1 API including many GLU functions
. Additionally, GL Galore also offers
bridging functions
that allow you to convert Hollywood brushes into OpenGL textures and vice versa. Furthermore, when GL Galore is activated, Hollywood's
hardware brushes and hardware double-buffers are mapped directly to OpenGL
so that you can even benefit from hardware accelerated drawing and transformation without writing a single line of GL code. Whenever GL Galore is activated, all graphics output will automatically be routed through OpenGL.
GL Galore can also be useful for
rapidly prototyping software in OpenGL
. People who used to program OpenGL using C will greatly appreciate Hollywood's convenient multimedia API which offers functions for almost all common tasks. For example, by using GL Galore to write OpenGL programs you can
avoid all the hassle of managing a GL window
using one of the many different toolkits out there. Also, jobs like image loading, sound or video playback, font handling and image manipulation will become
ridiculously easy thanks to Hollywood's powerful command set which covers over 700 functions
. And of course, there aren't 14 different versions of commands like glColor, but just one version because sometimes
less is more
.
GL Galore is available free of charge
and can be downloaded from the official Hollywood portal at
http://www.hollywood-mal.com/
Versions for AmigaOS 3 (FPU required), AmigaOS 4, MorphOS, AROS (x86), Windows (x86,x64), Mac OS X (ppc, x86, x64) and Linux (ppc, arm, x86, x64) are provided. On top of that, GL Galore comes with
over 250 pages of documentation
in various formats like PDF, HTML, AmigaGuide, and CHM. Finally,
many impressive example scripts are included
in the distribution archive to get you started really quickly.
All of this makes GL Galore
the ultimate OpenGL scripting experience combining the best of both worlds into one powerful plugin
: Hollywood's extensive and convenient multimedia function set and OpenGL's raw graphics power!
GL Galore is now available for free download from the official Hollywood portal at
http://www.hollywood-mal.com/
This release was brought to you by Airsoft Softwair - the hardest working men in code business.
AMIKIT X - High grade integrated Amiga emulator releases today!
Posted by
Neil79
- 19 May 2017
14:10
Unofficial conversion of AmiKit shown above
Quote:
Unlike last time when we thought Amiga Forever 7 was out and turned out to be a leaked beta changelog from an official EAB moderator, we are pleased to factually announce the high grade integrated Amiga emulator of 'AMIKIT X' is being released today Friday 19th May 2017. Originally developed as a main operating system for A.L.I.C.E. (A Laptop Incorporating Classic Experience), AmiKit has turned into a compilation of more than 350 pre-installed Amiga programs. An integrated emulator experience as a high-end AmigaOS configuration on Windows, Mac OS, Linux or Android systems
http://www.indieretronews.com/2017/0...ted-amiga.html
52 comments
vbcc 0.9f released
Posted by
phx
- 18 May 2017
21:16
Hightlights:
Possibility to create residentable (pure) executables.
More C99 support and more optimizes math functions (thanks Matt Hey).
New target for Kickstart 1.x programs, using the original Commodore 1.3 headers.
New target for Atari Jaguar consoles.
Many bug fixes and enhancements.
We are happy to announce that iComp GmbH (
www.icomp.de
) has decided to sponsor the 68k-AmigaOS version of vbcc. This does not only help us to continue supporting and improving this port but it also allows us to relax the terms of use for the Amiga-68k community. Everyone may now freely use vbcc to develop 68k-AmigaOS code for commercial as well as non-commercial usage (for details please refer to the license in the documentation).
We thank iComp GmbH for the confidence in vbcc and hope that this step will help in the creation of new software for the Amiga-68k.
16 comments
Descent: Freespace available as digital download and update for AmigaOS 4.1
Posted by
Cyborg
- 18 May 2017
11:52
Brussels, May 17, 2017
Hyperion Entertainment is pleased to announce the immediate availability of the space-combat simulation
Descent: Freespace
* for
AmigaOS 68k/WarpOS and AmigaOS 4.1 Final Edition
from the
direct downloads section
of our website.
Customers can now choose between two formats of this amazing game:
a purely digital version at a price of only EUR 14.95 incl. VAT** for download in our restricted download area,
or buy a boxed version*** at their preferred Amiga dealer.
The downloadable content consists of an image of the original CD for AmigaOS 68k/WarpOS and an archived game drawer for AmigaOS 4.1 including all languages and manual.
Purchasers get a serial number inside their box or by email to register their purchase at our website in order to get access to our
restricted download area
for the game archive, the original ISO image as well as potential future updates. For a first look, free demo versions are available from the
public download area
.
The updated version for AmigaOS 4.1 Final Edition includes among others:
compatibility with Southern Islands based Radeon cards
new launcher with screenmode selection, language selection and other options
uses MiniGL texture compression if available
tons of game bugfixes including a fully playable tutorial
For existing customers of Descent: Freespace the updated AmigaOS 4.1 version is available
free of charge
after registering their genuine copy with their free Hyperion account on our website.
Descent: Freespace - The Great War is the highly acclaimed space-combat simulator from Volition/Interplay and offers an unparalleled mix of top-notch graphics for its time, plot and game-play. It is widely considered one of the best space-combat simulators ever and gained lots of kudos from all important game magazines. The game was originally released in 2001 for AmigaOS 68k/WarpOS and in December 2004 for AmigaOS 4 by Hyperion Entertainment CVBA.
* also known as "Descent: Freespace - The Great War", "Conflict: Freespace - The Great War", "Freespace - The Great War"
** may very depending on your local taxes
*** boxed version only includes AmigaOS 68k/WarpOS version, the AmigaOS 4.1 version is available for download after registration on our website
Source
SMBMounter Updated
I've just uploaded a small update to my SMBMounter commodity which fixes a couple of bugs that affected some users, specifically:
- Intuition slowdowns
- Duplicating automounts on startup
- Added delayed retry for failed automounts where the host cannot be found (e.g. TCP stack not ready yet)
The updated version (1.5) is currently in the upload queue on Aminet and is also available
from my website
.
For anyone who doesn't know it, SMBMounter is a front-end GUI for SMBFS that makes it easy to create and manage SMB shares on your Amiga. It comes in GadTools and MUI versions, and works on OS3, OS4 and MorphOS.
Screenshot of MUI version: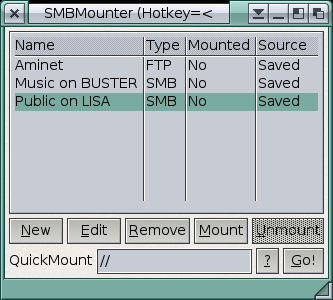 4 comments
Recursion Computer Fair: Sat 1 July Stratford-upon-Avon
Posted by
yoodoo2
- 17 May 2017
22:36
Now in its 4th year, the
Recursion Computer Fair
is back and will take place at King Edward VI School, Stratford-upon-Avon on Saturday 1 July 11.00-16.00.
Join us to celebrate 30+ years of Amiga computers and OSes - meet up with user groups, have a play on the latest hardware and have a chat with Amigans of all shapes, sizes and flavours! Classic Amigas, MorphOS, AROS, AmigaOS4 all side-by-side and not a pointless argument in sight!
The fair is completely free to all visitors and exhibitors and we are always keen to cram in another table of goodness: pm me or email rmbATkesDOTnet if you'd like to be added to the list of exhibitors. I'd especially like to hear from more user groups willing to bring along some kit to show off. Exhibitors get free on-site parking for the day and free refreshments all day.
In addition to the Amiga-like madness, the RISC OS Midlands User Group will be holding their annual summer show as part of Recursion and there will be more retro and vintage systems from the 70s, 80s and 90s than you could possibly play on in just 5 hours! Over 50+ systems to play with are currently booked.
There will be plenty of new stuff to have a go on too: hundreds of Raspberry Pis and Micro:Bits to play with; virtual reality experiences thanks to Oculus Rift, HTC Vive and PSVR; unmanned drone flight training; electronics and programming workshops and loads, loads more. Robotics and cool technology galore, with local Makerspace and Hackerspace stands. Hackathon competition for 10-18 years olds. Oh and an indoor planetarium from the NSA.
Recursion is the ideal fair for geeks of all ages and vintages - an ideal day out. See the Recursion website (run by KES students) for more details:
Recursion 2017
Previous show reports and photos can be found
here
and
here
Amiga Forever 7 (2017)
Upgrading to Amiga Forever 7 (2017):
The Tools/Options dialog contains several new tabs, sections and settings, including new controls for emulation, input, graphics and audio. The help tips make it easy to explore the new options: just pause the pointer over the desired feature to view context-specific help.
All general keyboard shortcuts (escape, pause, turbo, screen capture, etc.) are now grouped in the General section, under Tools/Options/Input.
General (not title-specific) game controller options can also be set in Tools/Options/Input. These global settings are defined as profiles, with features dedicated to standard game controllers (e.g. joysticks), keyboard layouts (e.g. direction and fire keys which can be used if your PC doesn't have a joystick) and arcade controllers (including presets for X-Arcade and I-PAC devices). Input profiles provide abstraction and increased compatibility, as they can be used and changed at runtime without having to modify actual titles, while retaining preferences even if the hardware changes. The individual titles retain maximum portability across systems.
To edit title-specific input settings, right-click a title, select Edit, and open the Input tab. Emulated devices and buttons can be reconfigured here, if necessary (e.g. to swap joystick ports or fire buttons on a per-title basis). New input options include multitap ports (i.e. extra joystick adapters). Virtual buttons make it possible to fire keyboard actions based on host game controller actions, e.g. to joystick-enable non-joystick games, or to use extra controller buttons for titles that used a mix of joystick and keyboard controls. Autofire (more broadly, autorepeat, as it works on any key) can be enabled and adjusted here as well. If you are curating content for mobile and touch-screen playback, mark buttons that are not used as Unused.
The main player window can now be closed without affecting any open emulation sessions (playback windows).
Titles launched from Windows File Explorer now just open the playback window, without also opening the main player window. Use the "Open main window" button at the top left of the playback window to open (or close) the main player interface.
All emulation environments now support Type Clipboard Text (in the Tools menu of the playback window), which "pastes" clipboard text by simulating fast keyboard typing. The feature is Unicode-aware and automatically translates between different host and guest keyboard layouts. Support for Japanese Commodore systems is included as well. To set the guest keyboard layout, right-click the title, select Edit, and select the Guest layout in the Input tab. For Amiga systems, you need to make sure that this matches the layout set via SetMap or SetKeyboard. For CBM systems, the correct ROM is automatically used based on the title selection.
If you have a very fast (or very slow) system, you can manually adjust the Typematic rate setting under Tools/Options/Emulation.
The default internal audio frequency can now be switched between 44.1 and 48 kHz with the new Tools/Options/Emulation/Audio/Preferred Sample Rate setting. If you are aiming for perfect sound quality, you can adjust this to minimize resampling overhead, taking into account the native frequency of the sound board.
The new Show Manifest/Show Changes button in the title editor helps power users be in full control of configuration, description and other details.
Fancy autostarting Windows into your favorite Amiga (or CBM) configuration? Just drag and drop the title over the Autostart playlist. The title will be launched in fullscreen on startup. For more information on automatic logon, see Booting a PC into Workbench (or C64, or PET/CBM...)
28 comments
ReportPlus
Report+ is a freeware ReAction-based utility with nine functions for OS3:
1) It is a friendly, enhanced replacement for the official Commodore bug
reporting tool (V40)2), optionally sending emails automatically)
2) It can generate/edit Aminet-style and OS4Depot-style readmes)
3) It can edit A3000/A4000-type battery-backed memory)
4) It can access the official manufacturer and product ID registries)
5) It can view IFF/RIFF files and their component chunks)
6) It can perform batch processing on icons)
7) It can convert between various ASCII formats)
8) It can show directory byte usage for any path, optionally also
fixing protection bits and/or deleting files)
9) It can take a snapshot of a path and later compare the
path against this, showing added, missing and changed files)
ReportPlus 7.08
:
Download
Amikit 8 Available On Google Play
Run ultrafast Amiga Workbench on your phone or tablet - now with JIT and Touchscreen support. The app uses AmiKit, the unique compilation of 350+ Amiga programs, waiting for you to explore on your mobile device!
Google Play Amikit 8:
Download
6 comments
Roadshow "Ping" Update released
Updated Roadshow version 1.13 contains repaired "ping" command
Roadshow version 1.13 was released on May 2nd, 2017. The updated "ping" command to ship in this release was found to contain a serious bug which could cause it to crash.
The demonstration and retail versions of Roadshow 1.13 have been updated and now contain the repaired "ping" command.
The separate Roadshow 1.13 update archive has been reworked to upgrade the old "ping" version which shipped with Roadshow 1.12 to the repaired version. This update archive can also be used to upgrade the "ping" command which shipped with Roadshow 1.13 on May 2nd, 2017 to the repaired version.
http://roadshow.apc.tcp.de
3 comments