Information
abime.net is copyright 2001-2021 by Astruc Pierre, also known as RCK.
Readers may not modify, publish, transmit or in any way exploit any of the contents of this site, in whole or in part, without the express prior permission of the copyright holder. Direct comments to the appropriate person. All rights reserved.
AROS One x86 v1.4 Realized
AROS One x86 v1.4:
Download
(Suspended no longer available)
AROS One:
Finally after a long time I am pleased to release my new version of AROS One x86 ABIv0.
Many new features, among them the new Dual-PNG icons for Drawers and Applications created by me where I have been inspired to many icons of the Amiga world and not only, some of them invented by me.
Another new feature is the new Core by Deadwood that adds many features, 64Bit support, various updates and fixes.
AROS One has grown considerably, the compacted ISO occupies 1GB but includes more than 2.5 GB of software, much of the best software released for AROS ABIv0.
My advice is to try AROS One x86 first on a Virtual Machine preferably VMWare for its ease of use and speed, I attach some video Tutorial that shows how to install AROS One x86.
One 68k 1.4 , Installazione su VMVare
:
Tutorial Video
(for optimal viewing set the video to 720p)
One 68k 1.4 , Installazione HD su VirtualBox
:
Tutorial Video
(for optimal viewing set the video to 720p)
One 68k 1.4 su PC Reale Inspiron Mini 91
:
Tutorial Video
(for optimal viewing set the video to 720p)
Amiga A1100 motherboard
Posted by
Estrayk
- 14 February 2021
17:11
Hello, a friend of mine "Miguel Fides", in collaboration with "Edu Arana", have worked for years on the reproduction of a board compatible with the A1000 case. I am the person who has been beta tester of the proyect, testing hundreds of demos, games, programs and additional hardware.
At first it was just an amateur project without any profit or sale, but we have noticed a lot of interest in the community and we are thinking that maybe we can make a launch for those interested.
This is the webpage we have created for the proyect:
http://a1100.arananet.net
If you are really interested you can write to us in the mail of the page and we will communicate the price to you when we have all the clear aspects.
If you have any questions about the board or the project, you can write your doubts in this same thread that I will review answering as I can.
https://www.youtube.com/watch?v=cP2rrnZsDm8
best regards
Estrayk.
9 comments
WHDLoadMenu
Author: vesuri

jormas.com (Vesa Halttunen)
WHDLoadMenu v0.11
:
Download
WHDLoadMenu:
is a frontend for WHDLoad. It displays a list of WHDLoadable applications in the given directory and allows them to be started by clicking on the name of the application using the mouse or by selecting the application name using the keyboard or a joystick.
WHDLoadMenu is intended to beconditionally started on system startup.
WHDLoadMenu requires WHDLoad (
http://www.whdload.de/whdload/WHDLoad_usr.lha
) to start the applications.
Please refer to the provided AmigaGuide documentation for installation
instructions.
1. Install using the provided Install script
2. Add Install:Path/StartWHDLoadMenu to the very beginning of Startup-Sequence
3. Hold down left mouse button and reboot
Version 0.11 changes:
- User defineable background color in WHDLoadMenuAnimated
- Improved ball animation in WHDLoadMenuAnimated
- Remove unnecessary name length limit in WHDLoadMenuAnimated
This work is licensed under the Creative Commons Attribution-ShareAlike 4.0 International License. To view a copy of this license, visit
http://creativecommons.org/licenses/by-sa/4.0/
or send a letter to Creative Commons, PO Box 1866, Mountain View, CA 94042, USA.
27 comments
User Group Meeting - Dallas, TX - USA
?
Our next meeting is schedule for Saturday, February 13, from 2:00 to
4:00 PM at the Dallas Makerspace. Their address is:

Dallas Makerspace
1825 Monetary Ln, Unit 104
Carrollton, TX 75006

The video link (which is also on the MCCC website, can be found here…

https://www.youtube.com/watch?v=KMmti9JGy3k





When people arrive, they shall go to the Suite 102 entrance (the one
with the wheelchair-accessible ramp) and ring the doorbell if the door
is locked. There are electronic kiosks in this front room with a
liability waiver that all new guests must sign. Once this is done,
the meeting room is just to the left of those kiosks.

The plan is to attempt to repair/replace the chip and traces which
were close to and apparently ruined by the leaking battery on a
A4000 tower which will not boot.

Also some Zool : Alien Ninja From the Nth Dimension (Sonic-like mascot for the Amiga) stuff will be shown as well.
If you have anything Zool related, like games, shirts, or other such, please bring it!

Come and join us today!


?
GoShell
Posted by
Vojo
- 08 February 2021
22:02
GoShell
is free and easy tool to open Shell terminal in fullscreen on separate screen.
Main features of GoShell
Customizable screen, font and colors (use parameter PREFS on start)
Support for KingCON (e.g. Filename-completion (TAB-expansion) )
Hiding the mouse pointer in full screen mode
Switching screens GoShell and others and quick access to the console with [Amiga]+m
Exit the console with [Ctrl] + \
Screenshots
Requirements
Any Amiga with kickstart 3.0+
Download
http://bitplan.pl/goshell/index.html
Enjoy!

20 comments
Tinyus Open Beta Released (OCS Gradius port)
Hi everyone,
aBYSs just released the 'Tinyus' open beta. 'Tinyus' is a faithful Amiga OCS port of the Arcade game Gradius.
Code & Audio:
Pink
Gfx:
Fade1
Reverse Engeneering:
Bartman
You can
download the beta version (0.2)
here:
http://abyss-online.de/eab/aYs_Tinyus_Beta0.2.adf
Changelog Version 0.2
- Hiscore updates implemented
- Respawning from checkpoints fixed
- 524 bytes smaller
Expect issues, and pleasepost them here please
About the port:
The original arcade hardware runs on a Motorola 68000 @ 10Mhz. It features hundreds of colors and hundreds of sprites at the same time, multiple backgrounds, hardware zooming, and 8 audio channels. So an OCS Amiga 500 does not quite match these specs. Still it was possible to have almost an arcade perfect conversion for it. However, even the arcade version had many slowdowns, and on Amiga 500 there are even more. So it's strongly recommended to play on Amiga 1200 (or better) for a steady 50fps experience.
Happy playing!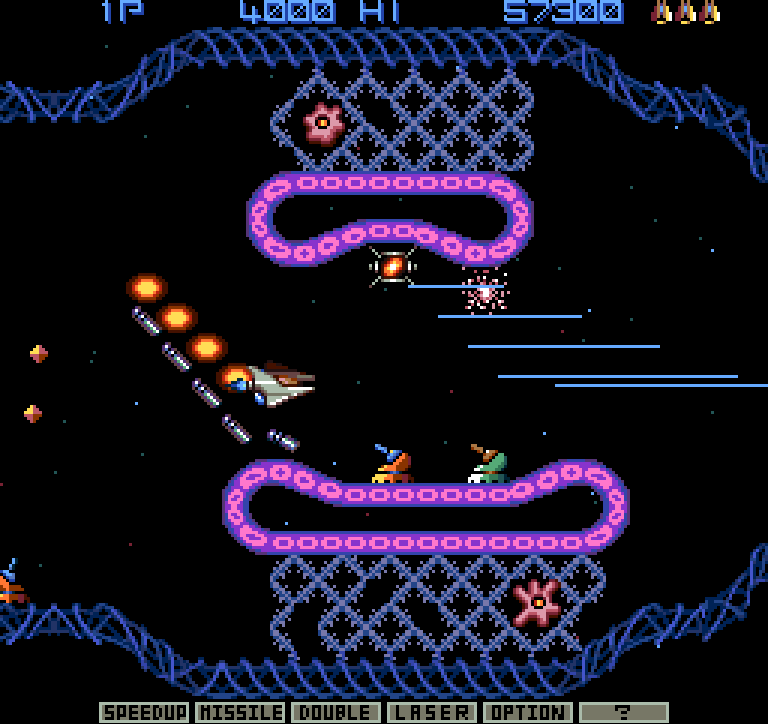 135 comments
Antiryad GX
Antiryad GX
is an unified Cross Platform and Multi Core 2D and 3D Game Engine.
In development since 1992, Antiryad Gx today rivals and even surpasses many commercial game engines in feature set, optimization and stability.
Antiryad Gx was used to create more than 40 projects by various companies and organizations.
Antiryad GX 4.9:
Download
Main features:
- Complete 2d and 3d graphic engine.
- Integrated editor and tools.
- Particle, water and volumetric fog effects.
- Fast collision system.
- Realtime shadows.
- Video codec for mobile and desktop systems.
- Full game framework.
- Network engine.
- Plugin system (C, C++, Gel), can be enhanced with external libraries (other midlewares like rendering engine, physic, other languages).
- Simplified and documented API completely platform independent.
- Supported languages are C, C++ and Gel.
- Develop once for several platforms.
- Freeware license.


Supported Platforms:
AmigaOS m68k AmigaOS 3.0
Aros 68k
Aros Powerpc Aros abiv0
Aros x86 Aros abiv0
Aros x64 Aros abiv0
MorphOS Powerpc MorphOS 3.10
Android Arm Android 5.0.1
Windows x86 Windows 2000
Windows x64 Windows 7
Linux x64 Mageia 6
Linux x86 Mageia 5
Linux Powerpc Debian
Linux Arm Debian 10 (Buster)
Linux Mips Debian
MacOSX Powerpc MacOSX 10.5
MacOSX x86 MacOSX 10.7
MacOSX x64 MacOSX 10.14
Do x86 Dos 5.0
Brand new Lemon Amiga website
Posted by
Predseda
- 10 January 2021
17:37
Fellow EAB members, on behalf of Kim Lemon I would like to inform you, that:
A brand new and greatly improved
Lemon Amiga
website has just been launched!
Actually I never thought this would happen. It's been an amazing 15+ years since I built the Lemon Amiga website and a lot has happened since then, both technically and in life in general.
To sum it up, all I wanted to say is - check out
the new Lemon Amiga website
and enjoy.
Keep retro gaming,


Kim Lemon





So, what's new?
Design
Responsive mobile-first design, while still keeping the classic 2004 feel.
Taking advantage of 4K/Retina displays.
Games
Added playable MP3 game music for 1732 games.
Type-sensitive live game search.
Improved Advanced games search.
Modern screenshot slider with swipe on touch devices.
Support for hires 640x512 screenshots.
All intro videos are now lossless WebM with MP4 fallback for Safari (OS X/iPhone/iPad).
Now using AJAX for improved multitasking. Rate, comment, watch video, listen to music, etc on the same page without interruption.
Game Top- and Worstlists can now be filtered by category.
A new WYSIWYG review editor.
Tightly integrated all LemonTube video reviews into the games pages.
Better logic for position of elements on games pages.
Users rating is now next to users comment.
Now showing WHDLoad installer author and date.
Now showing review scores (graphics, music, playability, overall) directly on games page.
Community
Upgraded from phpBB 2.0 to 3.3
Improved the phpBB site integration with login and profile option in the top right corner.
User actions (votes, comments, favourites, originals, completed games, reviews etc.) are now visible in the users forum profile
General improvements
SSL certificate and forced https
All code has been modernized and large parts have been re-written from scratch.
Moved to Digital Ocean cloud servers and upgraded to PHP 7.4.
Added Schema/Open Graph data to games and reviews to display more interesting snippets in search engines and social media.
Removed all dead links in the Links section
Overall clean-up and revision of content by updating or removing obsolete information.

37 comments
Demo version of the new Amiga game called "Wilcza Buda"
Welcome!
We are pleased to present you the demo version of the game called "Wilcza Buda" which we have been working on for almost a year with some breaks.
Currently, we are involved in the project for two, that is:
Pawe? "City" Mielewczyk and Marek "Marecheck" Koprjaniuk.
City is responsible for coding, the game engine and graphics.
I, however, for the plot of the game, dialogues and photos.
The surprise we have prepared is the possibility of getting the full version of the game in the future.
To receive it, you must complete the demo correctly and register with the received key on the website
www.wilczabuda.pl
from where you can download the demo itself.
If you want to be up to date with this project - we encourage you to subscribe to our channels ?
MARECHECK
https://www.youtube.com/channel/UC0T..._as=subscriber
POLISH RETRO CHANNEL
https://www.youtube.com/channel/UC8g...Z5QAImmyjJuTKg
Best Regards !
AMIGA RULES ?
5 comments
Tinyus - An arcade quality Amiga OCS port of Gradius/Nemesis
After Tiny Invaders, Tiny Galaga and Tiny Bobble
aBYSs announces: Tinyus
Tinyus is a faithful Amiga OCS port of the Arcade Gradius/Nemesis videogame. It needs OCS with 512k Chip and 512k Slowmem or better.
The games runs on Amiga 500 but Amiga 1200 (barebone) is recommended for fluid 50fps gameplay.
Tinyus features graphics by Fade1/aBYSs, Code & PreTracker music by Pink/aBYSs and reverse engeneering by Bartman/aBYSs.
The game will be released soon.
Here are some screens: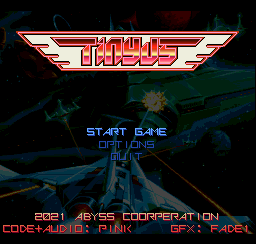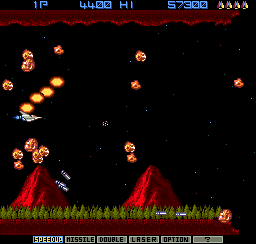 88 comments